In coordination with our local Chambers of Commerce, we launched our "We Love Our Teachers" Appreciation Initiative this morning to show our support for teachers.
We're asking our churches and business to join this initiative with four simple actions:
1. Provide yard signs for church members or employees to display at their home or business.
2. Create and/or join "Fan Clubs" to greet and cheer for teachers on their first day back to school (see info below).
3. Display "We Love Our Teachers" on your digital signs beginning today!
4. Use the "We Love Our Teachers" graphics on your social media and other outlets throughout July and August.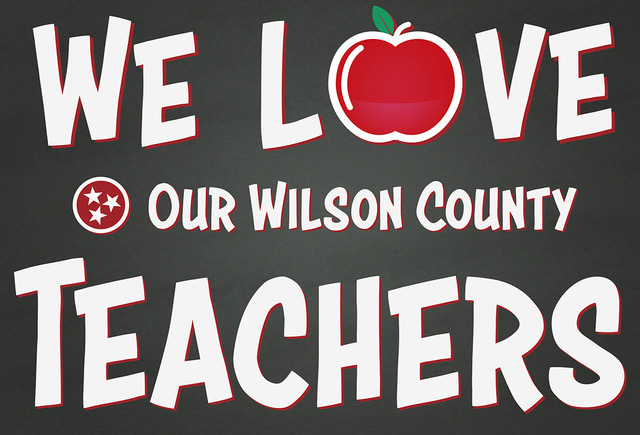 You can pick up signs at each of the Chambers of Commerce in Lebanon, Mt. Juliet, or Watertown for $10/sign (make checks payable to the specific chamber) beginning today, July 18.
The Fan Club requires as many church members and employees as possible to be present at the school entrance, holding the "We Love Our Teachers" signs or other hand-made signs and cheering for the teachers as they enter the building on their first day back to school. This is a great way to invite your entire church family or your business to show your support for our teachers.
Wilson County School District
Click the link below for a list of Wilson County Schools, locations, and the time teachers will arrive on Tuesday, July 26. Please rally your church members to gather as a Fan Club at your school at the appropriate entrance 30 minutes in advance.
Lebanon Special School District
All Lebanon Special School District Teachers will arrive for their first day back at Winfree Bryant Middle School on Wednesday, July 27 at 8 am. If your church is supporting these teachers, please arrive at 7:30 am for the Fan Club.
Friendship Christian School – August 2 at 8 am. (Arrive at 7:30 am)
Mt. Juliet Christian Academy – TBA
Our work together is built on loving relationships, and this is one amazing way to show we love our teachers and that we are with them in the good work they do for students and families every day.
So grab some signs, recruit your Fan Club, and show up strong next week!